Numbered Bingo Card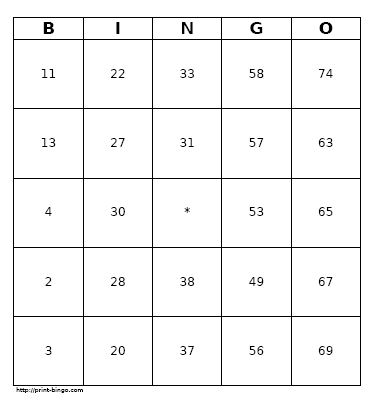 Standard numbered bingo cards can be created on print-bingo.com. In fact, that's how this whole site got it's start in 2005. You can generate regular numeric bingo cards in our three sizes, one per page, two per page, and 4 bingo cards per page.
If you don't have a local store to buy pre-printed bingo cards, then print-bingo.com is perfect for you. If you don't have access to a suitable printer for the print volume that you need, no problem! You can save the PDF's that are generated from this site and have Kinkos or Staples or your local print shop print them for you.
This image is of a regular numbered bingo card generated on print-bingo.com.
Back to print-bingo.com samples.